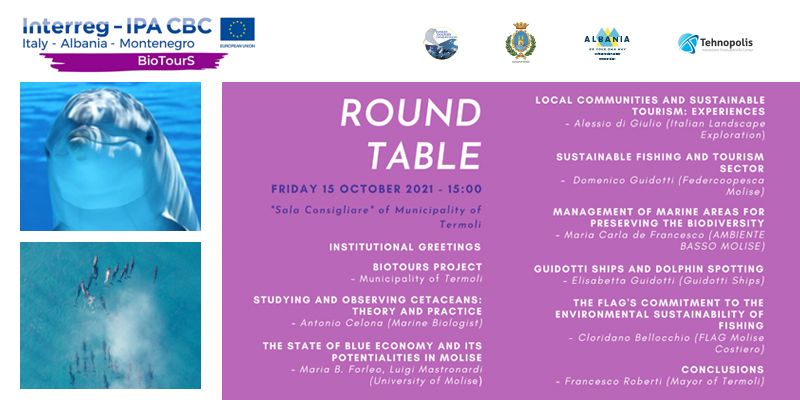 Walking towards a bluer world with BioTourS project
Overview
The Comune di Termoli is a partner of the BioTourS project that aims to raise awareness on eco-tourism in the Adriatic Sea and to develop tools for the dissemination of scientific knowledge on cetacean conservation.
In this context on 12, 14, and 15 October 2021 the Comune di Termoli will organize capacity building activities and a round table addressed to operators of the tourism sector, researchers, fishing sector, university students, associations, and local authorities, increasing the skills related to research, protection of cetaceans and sustainable tourism.
The 3 days of activities, which will alternate frontal and laboratory moments, will be deepened the knowledge on cetaceans, on sustainable tourism and territorial marketing and the sustainable tourism initiatives realized in Italy and abroad will be presented.
The events are free and will be held at "Sala Consigliare" of the Comune di Termoli. Every participant will receive a certificate of participation, do not miss it!
__________________________________________________________________________________
For further information about the events check the programs below or contact info@poa3.it.