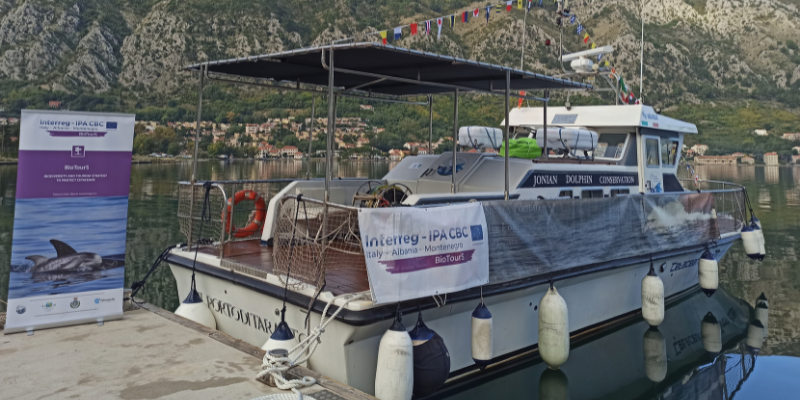 The Cetacean Youth Camp "Researcher for a day" took place in Kotor (Montenegro)
Overview
From 17th to 20th of October, the Jonian Dolphin Conservation team was working side by side with Innovation and Entrepreneurship Centre Tehnopolis to share the know-how related to scientific research and tourism strategy to protect cetaceans with the young participants of the Cetacean Youth Camp "Researcher for a day", that took place in Kotor (Montenegro).
The activities on the Camp have been related to the use of the new bio-acoustic technologies acquired thanks to the grant of the BioTourS project, useful to monitor cetacean populations listening to their vocalization. The Jonian Dolphin Conservation team and the participants could experience these new technologies and could apply them concretely during the sighting of bottlenose dolphins which occurred close to the entrance of Kotor Bay. Moreover, the participants attended a seminar to deepen their knowledge about cetaceans, realized by the Jonian Dolphin Conservation team. In addition, study visit to the Aquarium Boka was organised for the camp participants, in cooperation with the associated partner Institute of Marine Biology.
Youth Camp consisted of marine research activities for cetacean conservation using thematic equipment such as echo sounders, photo-video recording systems in HD, and hydrophones for bioacoustic studies. The Camp focused on the cetaceans' information retrieving (abundance, behavior, group size, sighting location); but also, on anthropogenic impact data (tourism activities, fishery practices, habitat degradation, marine litter, marine traffic).
Youth Camp was organized within the BioTourS project. This project will introduce the best practices in sustainable cross-border tourism, preserve the natural heritage of the Adriatic-Ionian area, and involve youngsters in cross-border touristic activities aiming at raising awareness on cetacean conservation
The lead partner of the BioTours Project is Jonian Dolphin Conservation (Taranto, Italy), while partners are National Tourism Organization (Albania), Comune di Termoli (Termoli, Italy), and Innovation and Entrepreneurship Center Tehnopolis (Montenegro).
This project is co-financed by the European Union under the instrument for Pre-Accession Assistance (IPA II) through the Interreg IPA CBC Italy-Albania-Montenegro.