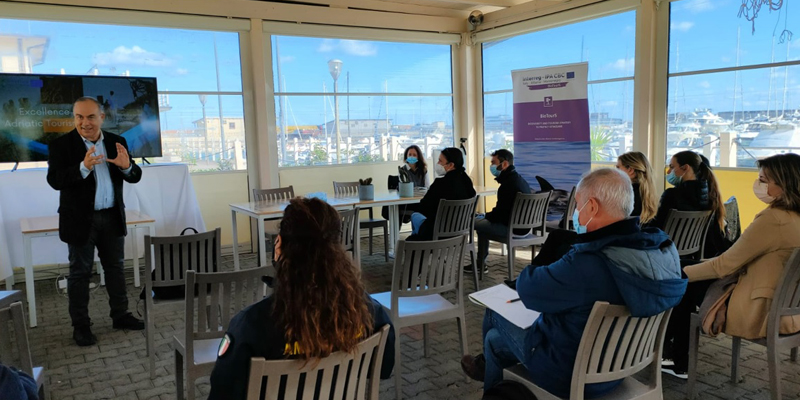 BioTourS has changed the way we consider seaside and tourism in Termoli
Overview
Yesterday were concluded the four days of events planned by the BioTourS project within the Comune di Termoli. Capacity building events, round tables and activities with children have been the heart of these days characterized by knowledge and fun!
Operators of the tourism sector, researchers, fishing sector, university students, associations, and local authorities were able to see with their own eyes the work done by the project partner Jonian Dolphin Conservation in the city of Taranto, making ever closer the possibility of recreating the weal watching experience in the territory of Termoli.
Capacity Building activities and the Round Table were carried out with the attendance of:
Antonio Celona, a marine biologist who discussed on a theoretical and practical level the study and observation of cetaceans;

Sergio Trevisani (Service Development Europe San Benedetto del T.) stressed the importance of diversifying the tourism product of the destination to move away from a traditional form of tourism, the seaside tourism. Only the offer of new touristic products will make it possible to de-seasonalize the touristic flow and enhance the peculiar characteristics of the territory;

Mauro Alfonsi (Responsible for the Tourism Office of San Benedetto del T.) illustrated the evolution that occurred within the through a cross-border cooperation project Arca Adriatica thanks to which the destination has become one of the 3 Italian seaside destinations preferred by travelers;

Guido Capanna Piscè (University Urbino Carlo Bo) has provided examples of strategic marketing that has led some Italian destinations to distinguish from the others;

Maria B. Forleo and Luigi Mastronardi (Professors at Uni Molise) have analyzed the theme of the blue economy and its potential on Molise territory;

Alessio di Giulio (Director of Italian Landscape Exploration) illustrated examples of experiences of sustainable tourism-driven by local communities;

Domenico Guidotti (Associate of Federcoopesca Molise) explained the link between sustainable fishing and the tourism sector;

Maria Carla de Francesco (Environmental educator of AMBIENTE BASSO MOLISE) discussed the theme of management of marine areas for the protection of biodiversity;

Elisabetta Guidotti (Member of Guidotti ships) described her company's projects and the watching of dolphins in Termoli;

Cloridano Ballocchio (Representative of Flag Molise) who outlined the FLAG's commitment to the environmental sustainability of fishing;

Giuseppina Mascilongo and Ludovica Di Renzo, marine biologist and veterinarian of the IZSAM centre, who described the activities of the IZSAM centre and the presence of cetaceans in Molise".
The Youth Camps was instead a unique opportunity to bring students closer to the world of cetaceans and to increase their awareness on the topic of sustainability!
Tomorrow the activities of the BioTourS project will move to Montenegro giving the opportunity to Innovation and entrepreneurship Centre Tehnopolis partner to discover the virtuous reality of Jonian Dolphin Conservation.
Continue to follow all our activities on the page!