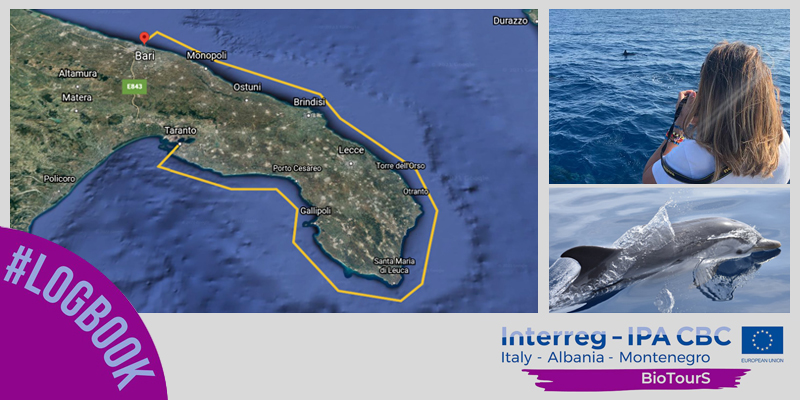 BioTourS: A variety of project activities marked the first half of October
Overview
How can a project transform and facilitate cross-border dolphin conservation and eco-tourism strategies? Can the contribution of citizen science actions be important in other areas of local development in terms of economic footprint and employment? This was discussed on the 3rd of October, when BioTourS lead partner Jonian Dolphin Conservation, presented the BioTourS project at the Taranto Port Days. 
The same day, their research vessel "Il Porto di Taranto" left from Taranto to reach San Foca, in Salento, where it stopped before reaching Bari. 
In Bari, on 4th of the October BioTourS project was presented at the Barion Rowing Club. The conference was opened by Pietro Petruzzelli, Bari municipal councilor for the Environment, who welcomed "this initiative that will make it possible to transform the historic presence of dolphins in the sea of ​​Bari into an attractive tourist capable of producing economy ". The project was illustrated in detail by Carmelo Fanizza, the president and founder of Jonian Dolphin Conservation (JDC), leader of the "BioTourS" project.
"With BioTours "- explained Carmelo Fanizza - "the JDC will export to the Adriatic its virtuous model of scientific research and eco-sustainable tourism in the regions involved in the project."
Dolphin watching, scientific dissemination, and virtual reality experiences can summarize the activities of the BioTourS project that took place the next few days in Bari. In addition to involving autistic children followed by the association Dalla Luna, JDC held a training workshop on the recognition of Mediterranean cetacean species for members of the Plana Sailing School.
The activities of the Interreg BioTourS project continued in Termoli! 
After the opening of the activities with the conference which took place yesterday, the activities of the "Youth Camps" began, dedicated to scientific dissemination and environmental education at the port of Termoli. Today, the protagonists of these training activities are the children of the socio-educational centers "Il Mondo a Colori" and "San Damiano".
The activities will also continue in the next few days, before the next stage: Montenegro.
The "BioTourS" project aims to increase the attractiveness of natural resources, in this specific case the presence of cetaceans in the Adriatic, connecting the tourism sector to the protection and the conservation of marine biodiversity. The project aims to present the best practices in sustainable tourism, facing new challenges in marine and environmental protection, thus protecting the natural heritage of the Adriatic-Ionian area.
BioTourS project is co-financed by the European Union under the Instrument for Pre-Accession Assistance (IPA II) through the Interreg IPA CBC Italy-Albania-Montenegro.  
The lead partner of the project is Jonian Dolphin Conservation (Taranto, Italy), while partners are the National Tourist Agency of Albania (Albania), Comune di Termoli (Termoli, Italy), and Innovation and entrepreneurship center Tehnopolis (Montenegro).